2022-2023 Catalog
[ARCHIVED CATALOG]
2022-2023 Catalog
---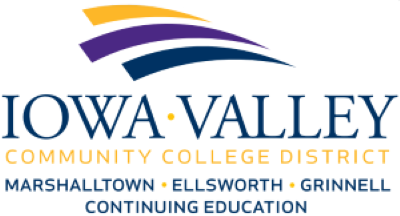 ---
Iowa Valley Community College District
3702 South Center Street, Marshalltown, IA 50158
Phone (641) 752-4643 • Fax (641) 752-5909
IVCCD Website
Ellsworth Community College

Marshalltown Community College

1100 College Avenue, Iowa Falls, IA 50126
Phone (641) 648-4611 or (800) 322-9235
Fax (641) 648-3128
ECC Website

3700 South Center Street, Marshalltown, IA 50158
Phone (641) 752-7106 or (866) 622-4748
Fax (641) 752-8149
MCC Website
Iowa Valley Grinnell
123 6th Avenue West, Grinnell, IA 50112
Phone (641) 236-0513 or (800) 756-0513 • Fax (641) 236-0036
IVG Website
---
Iowa Valley Community College District (which operates Ellsworth Community College, Marshalltown Community College, Iowa Valley Grinnell, and Iowa Valley Continuing Education) is accredited by The Higher Learning Commission (HLC website: ph. (312) 263-0456), the Iowa Department of Education, and the National Alliance of Concurrent Enrollment Partnerships; some individual degree programs are also accredited by agencies specific to those areas of study. IVCCD is a member of the North Central Association of Colleges and Schools. IVCCD has articulation agreements with Iowa's Regent universities and many other colleges in Iowa and the Midwest.
Disclaimer: The community college is a dynamic institution, constantly changing, constantly adjusting. The goal is to change with the needs and demands of our constituents (the students, the academic community, the wider community). The result is that in a catalog much of the information, while accurate at the time of printing, will change. IVCCD reserves the unrestricted right in its sole discretion to make changes in this catalog and in any policies, procedures, course offerings, educational programs, class schedules, tuition, fees, or personnel at any time, without notice.
This catalog is published for general information purposes only and does not constitute or establish a contract of any kind between the College and a student or prospective student. The College reserves the privilege to change, without notice, any information in this catalog.
---